Daily Nauru99 Report
NOAA Ship RONALD H. BROWN
Previous <- 7/16/99 -> Next

Time:1500 Local, 0300 Z
Observer: Gillman & Post
GPS Ship Position:
Lat. 0 deg. 31.1 min. S
Long. 166 deg. 54.3 min. E
Heading: 107 deg
Surface Wind: 7.5 m/s @ 110 deg. (14 m height)
Air Temp: 28.6C (13 m height)
Sea Temp: 28.9C (5 m depth)
Rel. Humidity: 71.1 % (13 m height)
Precipitation last 24 hr: 1 mm
Column Water Vapor: n/a
Cloud Layer Heights:
Ceilometer: 0.6, 5.6 - 6.2 km bases
MMCR Radar: shut down
Lidar: 12.5 km bases
Radiosonde Inversion Height: 0.6 km @ 2325 Z (Day 196)


Visual Observations: : Noticeably more and deeper MBL cumuli today, and higher winds.

Notable Events and Anecdotes: Mainstream scientific observations ceased today at 0900. Prior to that we spent 16 hours characterizing the noctural aerosol plume downwind from Nauru at off-shore distances of 12, 9, 6, 4, and 2 km. Packing operations began in earnest at 0900, with the ship seeking calmer seas leeward of Nauru to facilitate numerous crane operations, until sunset. Two sets of RHIB runs were made - to exchange plaques and say goodbyes, and to allow a tour of RHB by Nauru High School seniors. Some scientists took the opportunity to have their laundry done on Nauru (rumor is that the ship may not allow laundry at all for the remainder of the cruise), but they almost regretted it when they could not convince the Chinese laundress (who understood ZERO English) to return the clothes wet and unironed in time for the last RHIB run. They ended up pulling the clothes themselves from the backyard drying racks and hastily making tracks for the RHIB. The native spelling of Nauru was given incorrectly yesterday. The correct native spelling is Naoero. Tomorrow will be the final daily report from Ronald H. Brown. We will be underway to Kwajalein.

Instrument Status: Most are now turned off and being packed, except for those planned to participate in the next mission, KWAJEX. Overall, we had very few failures and accomplished nearly all intended observations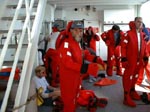 Tony Reale (NESDIS), Brad Orr (ETL), and others donning "Gumby" (survival) suits during the last abandon ship drill.