NOAA ESRL NAURU99 Project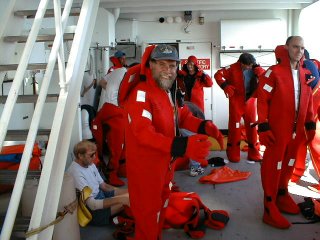 16 July 1999 - Tony Reale (NESDIS), Brad Orr (ETL), and others donning "Gumby" (survival) suits during the last abandon ship drill.
Nauru99 continues a series of intensive field studies in support of the DOE/Atmospheric Radiation Measurement (ARM) program in the tropical Western Pacific (TWP). Centered around the island of Nauru, the NOAA R/V Ronald H. Brown and the JAMSTEC R/V Mirai will measure surface and radiation fluxes at sea, for comparison with the land-based ARCS systems and the TAO buoy array.
Participants
Publications
Hare, J. E. and C. W. Fairall, Diurnal Variability of Turbulent Fluxes in the Equatorial Pacific, Proceedings of the Eight Atmospheric Radiation Measurement Science Team Meeting, 1998.
Post, M. J., et. al., The Combined Sensor Program, Bulletin of the American Meteorological Society, December 1997.