Near Real-Time Verification of Short-Term Forecasts During MOSAiC
---
MOSAiC (Multidisciplinary drifting Observatory for the Study of Arctic Climate) is the first year-round drift expedition into the central Arctic. The international expedition involves more than 60 institutions from 19 countries. The primary goal of MOSAiC is to advance the understanding of coupled climate processes in the Central Arctic, so they can be more accurately integrated into regional and global climate models. Information on the MOSAiC campaign is available at https://www.mosaic-expedition.org. The MOSAiC Near Real-Time Verification Project (MOSAiC-NRV) is designed to use observations taken during MOSAiC to improve the simulation of coupled processes unique to the Arctic, such as; The vertical representation of cloud and hydrometeors microphysics, low level (mix-phase) clouds; The representation of the stable boundary layer; Atmosphere-snow interaction and ocean-sea ice-atmosphere coupling. Short-term forecasts are used in this project to identify potential errors in the representation of "fast" processes that cause biases in climate model projections of Arctic climate change. The goal of MOSAiC-NRV is to evaluate the skill of fully-coupled short-term forecasts after each leg (approximately every 2-3 months) of the MOSAiC campaign at the Polarstern location. Multi-model diagnostics focus on process-based evaluation of the coupled system to identify systematic biases that limit the skill of Arctic forecasts. Observations of snow/sea-ice characteristics (from IMBs), the atmospheric structure (from soundings), cloud characteristics (based on radar/lidar), and surface fluxes (from 3 separate surface flux stations) are used in the evaluation.
---
MOSAiC Leg 1: Oct 1, 2019 - Dec 10, 2019
Green star indicates location of the icebreaker Polarstern on Dec 10, 2019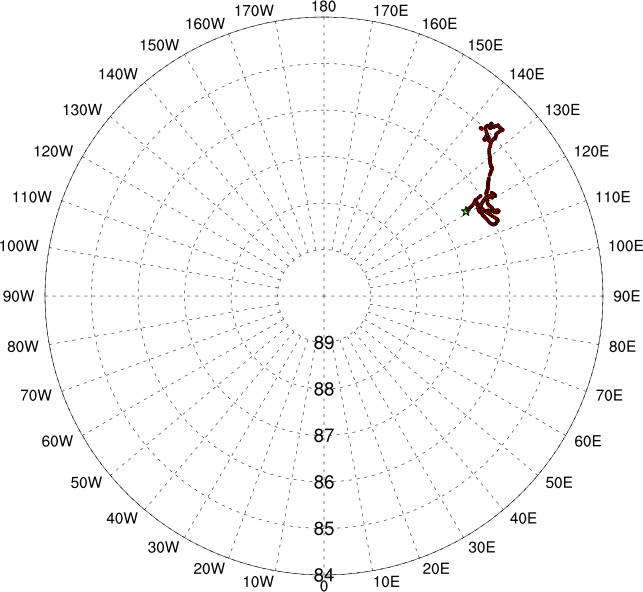 ---
These graphical products are not guaranteed to be updated on a regular basis. They are intended to serve as examples of our ongoing work. You are free to use and distribute these images, but we request that you acknowledge PSD when you do. Please contact amy.solomon@noaa.gov for more information.
---