Pacific Integrated Water Vapor Products
Previous 12-hour period (updated every 2 hours)
PSD SSMIS IWV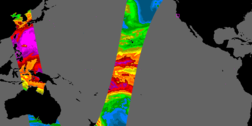 View enhanced imagery in support of HMT
12-hour Composite Images and 14-day Animations
---
SSMIS data for the PSD IWV product are provided courtesy of NOAA NESDIS.
MIRS data produced by NOAA NESDIS STAR and provided by NOAA CLASS.
Wentz SSM/I and AMSR data provided by Remote Sensing Systems.

Warning: Minimal quality control is applied to the real-time data. Occasional bad data may contaminate the images and the products are intended for qualitative analysis only.