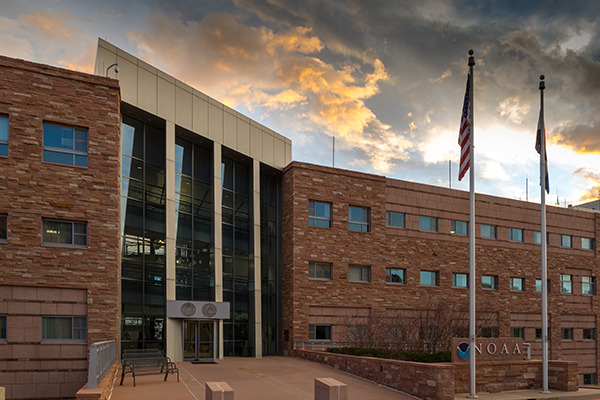 Spatial Variability of Air-Sea Interaction and Coupled Boundary Layers Observed During ATOMIC
Elizabeth Thompson
NOAA/ESRL PSD
Tuesday, Mar 03, 2020, 2:00 pm
DSRC Room GC402
---
Abstract
Preliminary results and observations are shown from the recent ATOMIC field campaign in Jan - Feb 2020 (Atlantic Tradewind Ocean–Atmosphere Mesoscale Interaction Campaign). The data from a NOAA research vessel, NOAA P3 aircraft, Saildrone, 2 ocean wave gliders, and 6 ocean drifters are used to document and understand the spatial variability of air-sea interaction in this unique region. Upwind of Barbados in late winter to early spring, swirling ocean currents associated with large eddies and fronts drift at odds to the brisk trade winds, while organized patterns of clouds develop overhead in ways that cannot yet be explained from current operational datasets or numerical models. The emphasis of the presented observational project is on understanding the physical components (wind, waves, stability, differences in air-sea gradients of temperature and humidity) and range of time scales (synoptic and mesoscale in atmosphere, mesoscale and submesoscale in ocean) responsible for the observed spatial and temporal variability in air-sea fluxes. The surface fluxes are compared throughout time and space to understand associated variations in the transfers of heat, moisture, and momentum between the ocean and atmosphere. These data are also used to assess the relative roles of surface turbulent fluxes, their components, and also radiative fluxes, in driving turbulent mixing in both boundary layers (air, sea). For instance, we investigate how surface-driven turbulence relates to cloud formation and ocean heat content, and how these processes vary spatially.
Visitors
You must provide an accepted form of identification at the Visitor Center to obtain a vistor badge. Security personnel also inspect vehicles prior to entrance of the site. Please allow extra time for these procedures.
After receiving a badge, you must arrive at the DSRC Lobby at least 5 minutes before the seminar starts to meet your security escort. If you arrive after that time, you will not be allowed entry.
Foreign Nationals: Please email the seminar contact at least 48 hours prior to the seminar to provide additional information required for security purposes.
Seminar Contact:
tom.statz@noaa.gov