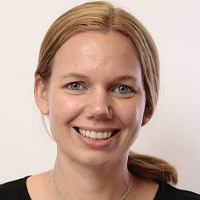 CIRES researcher Lisa Bengtsson joined the PSL Forecast and Modeling Development Team this past June. Lisa's research interests include predictability of weather and how we can improve our models' ability to reliably predict the weather by accounting for uncertainties in our model formulations. At PSL she is working together with colleagues on introducing a so called physically based stochastic parameterization, which accounts for the subgrid scale variability of convective and turbulent mixing. In addition she is working on improving formulations of the cloud and convection parameterizations to hold at higher model resolution, including introduction of lateral communication, representation of cloud life-cycle, unification of clouds across parameterizations and introducing stochasticity in the formulation of convection.
Prior to joining PSL, Lisa earned her PhD in Atmospheric Science at Stockholm University while also working the past 11 years at the Swedish Meteorological and Hydrological Institute (SMHI) in their forecast and modeling development team. Before that, she studied atmospheric science at the University of Wisconsin - Milwaukee, on a soccer scholarship.
Lisa is originally from Uppsala, Sweden. She still enjoys soccer, but these days it is more on TV than on the field. She likes skiing and being outdoors exploring Colorado with her family.
Posted: November 13, 2017