Meet Francesca Viterbo
June 6, 2017
Francesca Viterbo joined PSL's Hydrometeorology Modeling and Applications team in May 2017 as CIRES research associate after finishing her PhD at the University of Genova in Italy. Her dissertation work mainly focused on the hydrometeorological modelling of extreme weather events in complex terrain. She used WRF and WRF-Hydro models at different spatial and temporal scales, comparing the classical stand-alone meteorological approach (WRF) with a fully coupled representation of the water cycle (WRF-Hydro). Francesca explored the possible improvements in terms of precipitation predictability of extreme flooding events in both of these configurations over the Tiber river basin in central Italy. She compared the model output with the available observations, considering multiple variables in terms of soil moisture dynamic, heat and moist fluxes, precipitation and streamflow.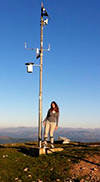 Francesca's research at PSL mainly focuses on the evaluation and assessment of the newly operational National Water Model (NWM), considering the related uncertainties both in the meteorological forcing and in the model outputs. Her main target is to evaluate the forecast performance and value added by the NWM within the scope of operational forecast needs and water management at various forecast lead times. The two projects she is currently working on involves a collaborative effort between different research groups such as PSL, NCAR, Bureau of Reclamation and NWC, OWP.
In her spare time, Francesca likes travelling around the world, camping, swimming, reading books, enjoying live music, good food and interesting conversations.