Download Climate Timeseries
Greenland Blocking Index (GBI)
GBI is the mean 500 hPa geopotential height for the 60-80°N, 20-80°W region. It measures blocking over Greenland which impacts both climate and weather in the Northern Hemisphere.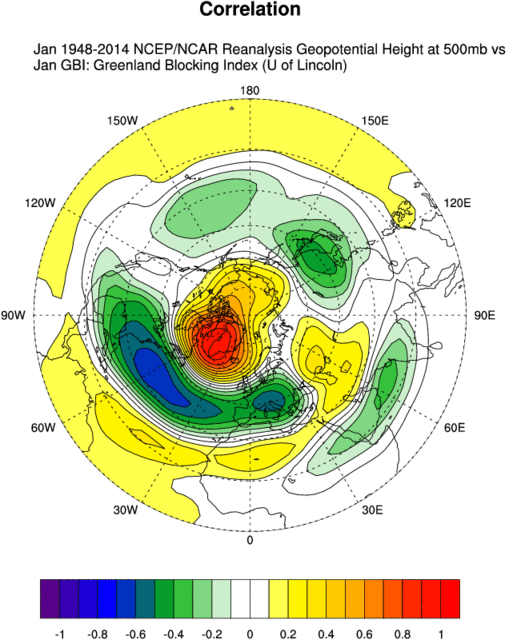 Time Interval: Monthly
Time Coverage: 1851 to present
Update Status: updated irregularly
Get Data:
GBI: Standard PSL Format ( What is standard format?)

Time Interval:
Daily
Time Coverage:
1948 to present
Update Status:
updated irregularly
Get Data:
GBI:
Source:
Monthly data is from U of Lincoln using the 20CRV2c and the NCEP Reanalysis I datasets. The two dataset time-series were merged using the procedure described in their paper.
Daily data is from the NCEP/NCAR Reanalysis.
References:
Hanna, E., T.E. Cropper, R.J. Hall, and J. Cappelen (2016) Greenland Blocking Index 1851-2015: a regional climate change signal. International Journal of Climatology, DOI: 10.1002/joc.4673.
[ SOI | NAO | Rec NAO | AO | AO 20thCR | PDO | NP | TPI | Iceland P | Azores P | Gilbralter P | Nagasaki P | Madras P ]
[ Niño1+2 | Niño3 | Niño3.4 | Niño 4 | AMO | Global T stations | Global T+SST (NASA) | Global T+SST (CRU) | Sunspots ]
---