US Climate Division Dataset Maps
NOAA/NCEI U.S. Climate Division Data: Plotting and Analysis
Plot maps from the monthly NOAA/NCEI U.S. Climate Division dataset including means, anomalies, and climatologies. Maps can be created for an average ("composite") of different years.
Latest data update at PSL: Jan 10, 2022
Default climatology has been changed to 1991-2020
---
U.S. Climate Division dataset is obtained from National Centers for Environmental Information (NCEI). Data is provisional and may be subject to correction by NCEI at a later date!
---
U.S. Climate Division Plotting and Analysis Page: Help
Location of US Climate Divisions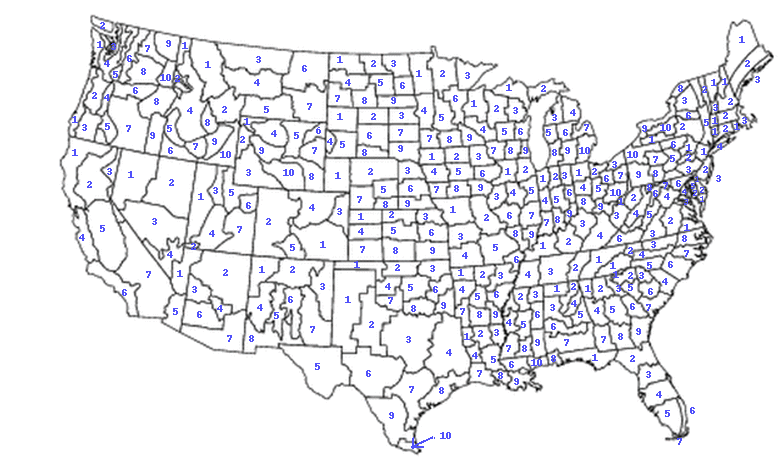 Skip to state below for definition of US climate division.
| | |
| --- | --- |
| Alabama (1) | 1 North Valley |
| | 2 Appalachian Mountain |
| | 3 Upper Plains |
| | 4 Eastern Valley |
| | 5 Piedmont Plateau |
| | 6 Prairie |
| | 7 Coastal Plain |
| | 8 Gulf |
| Arizona (2) | 1 Northwest |
| | 2 Northeast |
| | 3 North Central |
| | 4 East Central |
| | 5 Southwest |
| | 6 South Central |
| | 7 Southeast |
| Arkansas (3) | 1 Northwest |
| | 2 North Central |
| | 3 Northeast |
| | 4 West Central |
| | 5 Central |
| | 6 East Central |
| | 7 Southwest |
| | 8 South Central |
| | 9 Southeast |
| California (4) | 1 North Coast Drainage |
| | 2 Sacramento Drainage |
| | 3 Northeast Interior Basins |
| | 4 Central Coast Drainage |
| | 5 San Joaquin Drainage |
| | 6 South Coast Drainage |
| | 7 Southeast Desert Basin |
| Colorado (5) | 1 Arkansas Drainage |
| | 2 Colorado Drainage |
| | 3 Kansas Drainage |
| | 4 Platte Drainage |
| | 5 Rio Grande Drainage |
| Connecticut (6) | 1 Northwest |
| | 2 Central |
| | 3 Coastal |
| Delaware (7) | 1 Northern |
| | 2 Southern |
| Florida (8) | 1 Northwest |
| | 2 North |
| | 3 North Central |
| | 4 South Central |
| | 5 Everglades and Southwest Co |
| | 6 Lower East Coast |
| | 7 Keys |
| Georgia (9) | 1 Northwest |
| | 2 North Central |
| | 3 Northeast |
| | 4 West Central |
| | 5 Central |
| | 6 East Central |
| | 7 Southwest |
| | 8 South Central |
| | 9 Southeast |
| Idaho (10) | 1 Panhandle |
| | 2 North Central Prairies |
| | 3 North Central Canyons |
| | 4 Central Mountains |
| | 5 Southwestern Valleys |
| | 6 Southwestern Highlands |
| | 7 Central Plains |
| | 8 Northeastern Valleys |
| | 9 Upper Snake River Plains |
| | 10 Eastern Highlands |
| Illinois (11) | 1 Northwest |
| | 2 Northeast |
| | 3 West |
| | 4 Central |
| | 5 East |
| | 6 West Southwest |
| | 7 East Southeast |
| | 8 Southwest |
| | 9 Southeast |
| Indiana (12) | 1 Northwest |
| | 2 North Central |
| | 3 Northeast |
| | 4 West Central |
| | 5 Central |
| | 6 East Central |
| | 7 Southwest |
| | 8 South Central |
| | 9 Southeast |
| Iowa (13) | 1 Northwest |
| | 2 North Central |
| | 3 Northeast |
| | 4 West Central |
| | 5 Central |
| | 6 East Central |
| | 7 Southwest |
| | 8 South Central |
| | 9 Southeast |
| Kansas (14) | 1 Northwest |
| | 2 North Central |
| | 3 Northeast |
| | 4 West Central |
| | 5 Central |
| | 6 East Central |
| | 7 Southwest |
| | 8 South Central |
| | 9 Southeast |
| Kentucky (15) | 1 Western |
| | 2 Central |
| | 3 Blue Grass |
| | 4 Eastern |
| Louisiana (16) | 1 Northwest |
| | 2 North Central |
| | 3 Northeast |
| | 4 West Central |
| | 5 Central |
| | 6 East Central |
| | 7 Southwest |
| | 8 South Central |
| | 9 Southeast |
| Maine (17) | 1 North |
| | 2 South Interior |
| | 3 Coastal |
| Maryland (18) | 1 Southeastern Shore |
| | 2 Central Eastern Shore |
| | 3 Lower Southern |
| | 4 Upper Southern |
| | 5 Northeastern Shore |
| | 6 North Central |
| | 7 Appalachian Mountains |
| | 8 Allegheny Plateau |
| Massachusetts (19) | 1 West |
| | 2 Central |
| | 3 Coastal |
| Michigan (20) | 1 West Upper |
| | 2 East Upper |
| | 3 Northwest Lower |
| | 4 Northeast Lower |
| | 5 West Central Lower |
| | 6 Central Lower |
| | 7 East Central Lower |
| | 8 Southwest Lower |
| | 9 South Central Lower |
| | 10 Southeast Lower |
| Minnesota (21) | 1 Northwest |
| | 2 North Central |
| | 3 Northeast |
| | 4 West Central |
| | 5 Central |
| | 6 East Central |
| | 7 Southwest |
| | 8 South Central |
| | 9 Southeast |
| Mississippi (22) | 1 Upper Delta |
| | 2 North Central |
| | 3 Northeast |
| | 4 Lower Delta |
| | 5 Central |
| | 6 East Central |
| | 7 Southwest |
| | 8 South Central |
| | 9 Southeast |
| | 10 Coastal |
| Missouri (23) | 1 Northwest Prairie |
| | 2 Northeast Prairie |
| | 3 West Central Plains |
| | 4 West Ozarks |
| | 5 East Ozarks |
| | 6 Bootheel |
| Montana (24) | 1 Western |
| | 2 Southwestern |
| | 3 North Central |
| | 4 Central |
| | 5 South Central |
| | 6 Northeastern |
| | 7 Southeastern |
| Nebraska (25) Note- there is no division 4 in Nebraska. | 1 Panhandle |
| | 2 North Central |
| | 3 Northeast |
| | 5 Central |
| | 6 East Central |
| | 7 Southwest |
| | 8 South Central |
| | 9 Southeast |
| Nevada (26) | 1 Northwestern |
| | 2 Northeastern |
| | 3 South Central |
| | 4 Extreme Southern |
| New Hampshire (27) | 1 North |
| | 2 South |
| New Jersey (28) | 1 Northern |
| | 2 Southern |
| | 3 Coastal |
| New Mexico (29) | 1 Northwestern Plateau |
| | 2 Northern Mountains |
| | 3 Northeastern Plains |
| | 4 Southwestern Mountains |
| | 5 Central Valley |
| | 6 Central Highlands |
| | 7 Southeastern Plains |
| | 8 Southern Desert |
| New York (30) | 1 Western Plateau |
| | 2 Eastern Plateau |
| | 3 Northern Plateau |
| | 4 Coastal |
| | 5 Hudson Valley |
| | 6 Mohawk Valley |
| | 7 Champlain Valley |
| | 8 St. Lawrence Valley |
| | 9 Great Lakes |
| | 10 Central Lakes |
| North Carolina (31) | 1 Southern Mountains |
| | 2 Northern Mountains |
| | 3 Northern Piedmont |
| | 4 Central Piedmont |
| | 5 Southern Piedmont |
| | 6 Southern Coastal Plain |
| | 7 Central Coastal Plain |
| | 8 Northern Coastal Plain |
| North Dakota (32) | 1 Northwest |
| | 2 North Central |
| | 3 Northeast |
| | 4 West Central |
| | 5 Central |
| | 6 East Central |
| | 7 Southwest |
| | 8 South Central |
| | 9 Southeast |
| Ohio (33) | 1 Northwest |
| | 2 North Central |
| | 3 Northeast |
| | 4 West Central |
| | 5 Central |
| | 6 Central Hills |
| | 7 Northeast Hills |
| | 8 Southwest |
| | 9 South Central |
| | 10 Southeast |
| Oklahoma (34) | 1 Panhandle |
| | 2 North Central |
| | 3 Northeast |
| | 4 West Central |
| | 5 Central |
| | 6 East Central |
| | 7 Southwest |
| | 8 South Central |
| | 9 Southeast |
| Oregon (35) | 1 Coastal Area |
| | 2 Willamette Valley |
| | 3 Southwestern Valleys |
| | 4 Northern Cascades |
| | 5 High Plateau |
| | 6 North Central |
| | 7 South Central |
| | 8 Northeast |
| | 9 Southeast |
| Pennsylvania (36) | 1 Pocono Mountains |
| | 2 East Central Mountains |
| | 3 Southeastern Piedmont |
| | 4 Lower Susquehanna |
| | 5 Middle Susquehanna |
| | 6 Upper Susquehanna |
| | 7 Central Mountains |
| | 8 South Central Mountains |
| | 9 Southwest Plateau |
| | 10 Northwest Plateau |
| Rhode Island (37) | 1 Rhode Island |
| South Carolina (38) | 1 Mountain |
| | 2 Northwest |
| | 3 North Central |
| | 4 Northeast |
| | 5 West Central |
| | 6 Central |
| | 7 Southern |
| South Dakota (39) | 1 Northwest |
| | 2 North Central |
| | 3 Northeast |
| | 4 Black Hills |
| | 5 Southwest |
| | 6 Central |
| | 7 East Central |
| | 8 South Central |
| | 9 Southeast |
| Tennessee (40) | 1 Eastern |
| | 2 Cumberland Plateau |
| | 3 Middle |
| | 4 Western |
| Texas (41) | 1 High Plains |
| | 2 Low Rolling Plains |
| | 3 North Central |
| | 4 East Texas |
| | 5 Trans Pecos |
| | 6 Edwards Plateau |
| | 7 South Central |
| | 8 Upper Coast |
| | 9 South |
| | 10 Lower Valley |
| Utah (42) | 1 Western |
| | 2 Dixie |
| | 3 North Central |
| | 4 South Central |
| | 5 Northern Mountains |
| | 6 Uinta Basin |
| | 7 Southeast |
| Vermont (43) | 1 Northeastern |
| | 2 Western |
| | 3 Southeastern |
| Virginia (44) | 1 Tidewater |
| | 2 Eastern Piedmont |
| | 3 Western Piedmont |
| | 4 Northern |
| | 5 Central Mountain |
| | 6 Southwestern Mountain |
| Washington (45) | 1 West Olympic Coast |
| | 2 North East Olympic San Juan |
| | 3 Puget Sound Lowlands |
| | 4 East Olympic Cascade Foothills |
| | 5 Cascade Mountains West |
| | 6 East Slope Cascades |
| | 7 Okanogan Big Bend |
| | 8 Central Basin |
| | 9 Northeastern |
| | 10 Plouse Blue Mountains |
| West Virginia (46) | 1 Northwestern |
| | 2 North Central |
| | 3 Southwestern |
| | 4 Central |
| | 5 Southern |
| | 6 Northeastern |
| Wisconsin (47) | 1 Northwest |
| | 2 North Central |
| | 3 Northeast |
| | 4 West Central |
| | 5 Central |
| | 6 East Central |
| | 7 Southwest |
| | 8 South Central |
| | 9 Southeast |
| Wyoming (48) | 1 Yellowstone Drainage |
| | 2 Snake Drainage |
| | 3 Green and Bear Drainage |
| | 4 Big Horn |
| | 5 Powder, Little Mo & Tongue Drainages |
| | 6 Belle Fourche Drainage |
| | 7 Cheyenne Niobrara Drainage |
| | 8 Lower Platte |
| | 9 Wind River |
| | 10 Upper Platte |
---
U.S. Climate Division Plotting and Analysis Page: Dataset Information
---
This is a Research and Development Application